Date/Time
Date(s) - Oct 12, 2018 through Oct 14, 2018
12:00 PM - 5:00 PM
Location
Dallas Market Hall
The Dallas International Gem & Jewelry Show returns October 12-15 in Market Hall.  We have spent the summer creating and will have lots of new pieces to share. Look for us in booth 407, down the center aisle.
Show hours are: Friday noon – 6pm, Saturday 10am – 6pm, and Sunday 11am – 5pm.
We are expecting quite a change up on the weather this weekend with maybe some Fall like temperatures. Hope you haven't flooded in this crazy heavy rain and hope you can make it out to the show!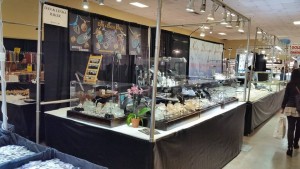 You can also download this ticket image below for free entry into the show.