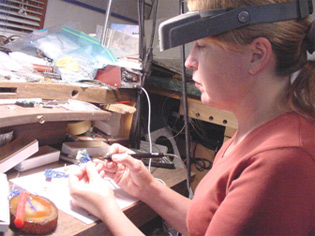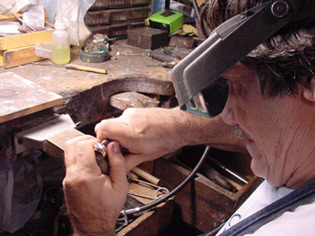 Daniel and Linda Baker have been designing jewelry since 1973, when they began fabricating sterling silver mountings for the gemstone cabochons which they cut and polished in their home. They exhibited in their first art show in Dallas in 1974 which was so successful that two years later they became full-time jewelry artists.
Their professional reputation grew so quickly that they were personally invited by the International Gem & Jewelry Show founder, Herbert A. Duke, to demonstrate silversmithing at the first International Gem and Jewelry Show in Dallas in November, 1977.
Among the thousands of commissioned works they have produced for clients throughout the world are five commemorative crowns for the International Gem & Jewelry Show.  The "Lone Star Tiara" (on permanent display in the Witte Museum in San Antonio) has been used to crown the Fiesta Queen in San Antonio. The "Crown of Charlemagne" and the "Crown of Napoleon" were featured on separate covers of Lapidary Journal, (May, 1983 and March, 1985).  They also fabricated a silver sculpture commissioned by the University of Texas Alumni association which was presented by Gov. Mark White to the University of Texas at its centennial celebration.
Today they continue to produce jewelry of sterling silver, gold and platinum using lost wax casting and a variety of fabrication techniques, including: forging, granulation, reticulation, Keum-boo and mokume gane. A single piece may feature ancient coins, pottery shards or Roman glass, accented with gemstones, fossils and natural mineral specimens. They've won many awards in shows throughout the Southwest with their innovative designs which combine Classical, Celtic and Egyptian elements in a contemporary setting. Dan especially enjoys carving gemstones as large as possible to create "Megalithic Jewelry" and they also like working with fossils in their "Jurassic Classics."